Beyond the buzzwords: Our agile transformation
Ben Slominski, Agile Coach,
Over the past few years, we, as an agency, have invested in several strategic initiatives to benefit our clients, team and our business as a whole. Our move to 'agile' is one of the most transformative and bold moves to date. 
Our decision to adopt an agile way of working has been driven by a clear purpose: to push our clients' performance above and beyond what they thought was possible. To do this, we must be value-led and ensure strategy is truly at the heart of everything we do. Bringing this to life meant reimagining and implementing both a new mindset and way of working. Agile philosophy enabled this for our business.  
It was important, though, to move beyond the usual pitfalls of agile; buzzwords, canned processes, and frameworks – and instead embrace and embark on a transformation that would be felt in every corner of our business. 
Whilst our journey to agile started to really gain momentum back in 2021, it's a constantly evolving process that continues to help us and our clients grow. In this blog, we reflect on our journey so far by sharing 3 things that we feel have had the greatest impact.  
1. Driving continuous improvement 
Striving for "continuous improvement" is one of the cornerstones of applying agile processes and it plays an important role in helping us seek greater value in the work that we do.  
In practical terms, this has translated into running successful 'stand ups' and 'retrospectives' right across the agency. Retrospectives have proven to be hugely valuable as they allow our teams to reflect on what's "gone well" and what can be "improved" at regular points during each project or campaign. Positive outcomes are great for boosting team morale and friction can be channelled into driving genuine change.   
Our CEO, Ryan, is an agile convert and sees the benefits right through the business, but particularly in the way our leadership function now operates: 
"We're finding real value from running regular 'retros' in the leadership team. It gives us a touchpoint to reflect and build on our collective successes and an opportunity to explore, discuss and act where we can get better. 'Retros' also allow us to embrace and embody a challenger mindset and culture, which in turn enables us to lead the business by example."  

To support our team on this journey, we've invested in new roles (including my role as an agile coach), alongside key tools and training workshops to aid development across our teams.  
 2. Structuring for success 
Underpinned by an 18-year legacy, we've built a number of long-standing client partnerships and we continue to attract new brands with big ambitions.  
We've had a great deal of success driving results for our clients, from designing and building new brand experiences to running award-winning integrated media campaigns, but that didn't stop us asking: "Are we structured for optimal success?" 
As a full-service digital agency delivering a wide spectrum of specialisms, ensuring collaborative thinking (and avoiding siloes!) is, we find, incredibly important for driving marketing effectiveness. 
Like most other agencies, we were operating on a traditional model based on department functions (the 'design team', the 'SEO team', the 'development' team and so forth), but we saw an opportunity to do something different. What if we could curate or handpick a team of individuals that aligned more effectively with each of our client's needs?  
This is when we introduced our CFTs. Our 'client-focused teams' or 'cross-functional teams' (depending on who you ask!) are teams made up of individuals who hold the core skills required to service the needs of their specific client. Here's what it looks like: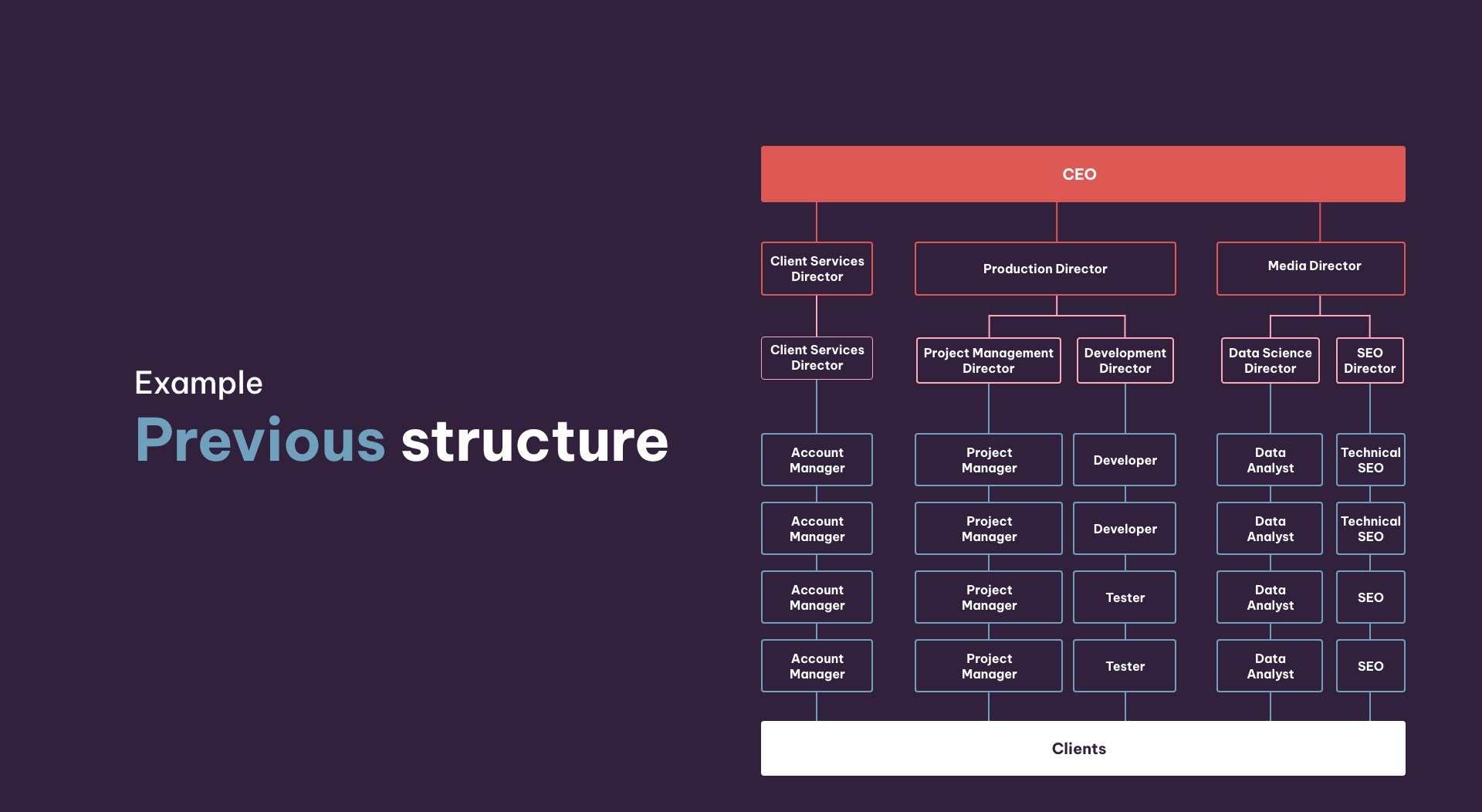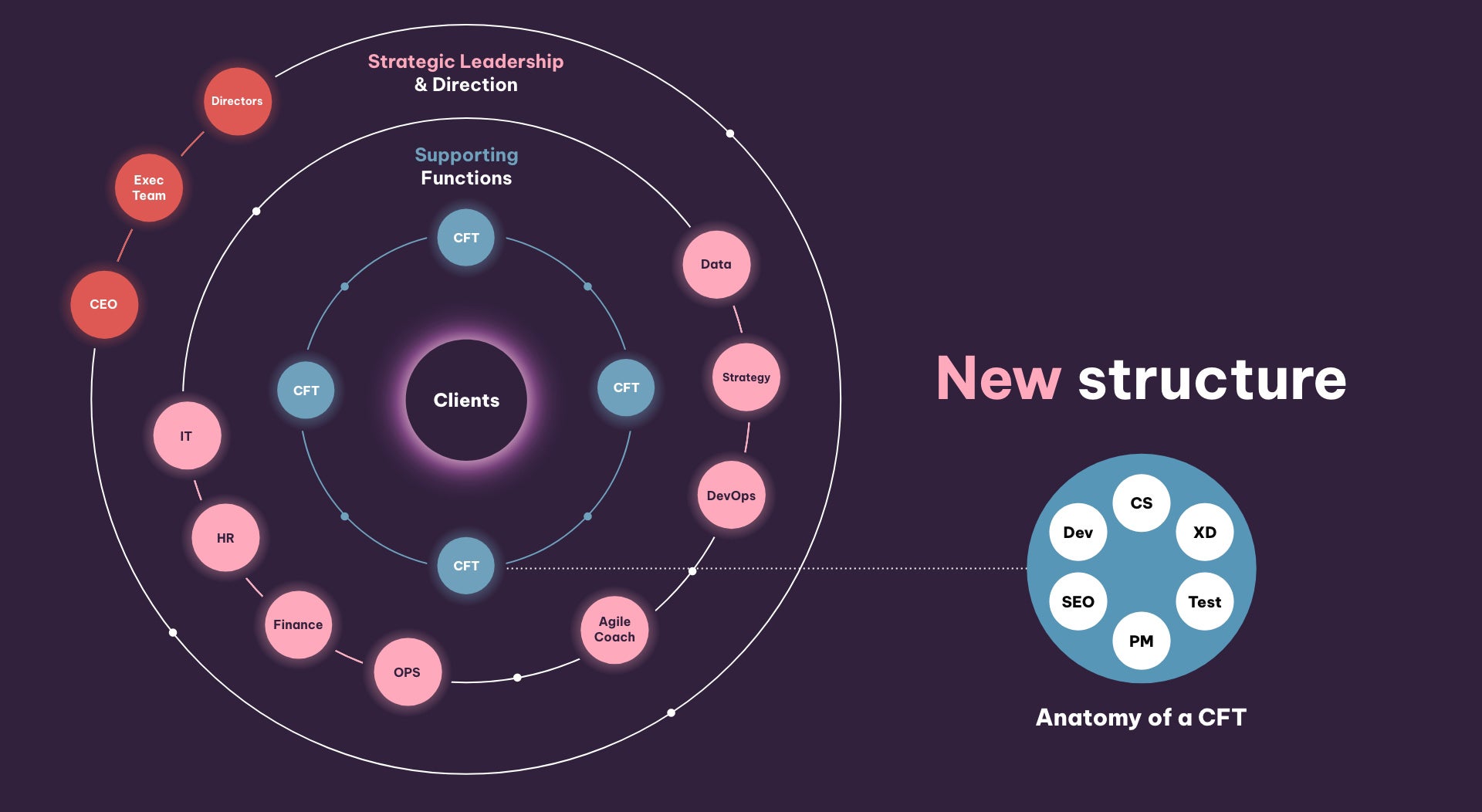 The benefit of this is two-fold. Our integrated multi-disciplined teams are structured in a way that enhances collaboration and efficiency, with a central common objective. But crucially, this set up enables us to be more in tune with our clients and their businesses. By developing deeper relationships, we can identify and jointly develop opportunities to offer additional value and have a greater impact as one unit, rather than as multiple independent service leads tackling one problem. 
 3. Building agile partnerships 
As part of this transformation, we expanded our offering to not only embrace agile project methodology but really explore the benefits of a true and transparent agile partnership with our clients, where projects are defined together, progressively. 
For many agencies, agile simply means organising development cycles through sprints. But our preferred approach is based on a partnership underpinned by shared goals and roadmaps, whilst continuously collaborating and prioritising work according to its reach and impact.  
Our Solutions Director, John, adds:
"Our best projects are the ones where the sense of people working together to build something great transcends the sense of contracted deliverables and billing schedules. Of course, you can build an integrated team that cares with any contract type or project methodology, but it just works so much better when you consciously, right from the start, agree to build your work and your relationships with an approach that emphasises people, users and business outcomes over predefined project artefacts."  

Our move to 'agile' has played a key role in both our agency and client success stories. But it doesn't end here. Our story is one that keeps evolving and we're excited to see where this new chapter continues to take us.  
If you're looking for a digital agency and like the sound of how we work, you can get in touch with us here.  
Or if you'd like to be a part of the team, check out our latest vacancies here. 
Our insights
Tap into our latest thinking to discover the newest trends, innovations, and opinions direct from our team.