Buying the brand: why branding is an ecommerce imperative
Dani Goodwin - Head of Marketing,
At a time when measurement and attribution across ecosystems becomes harder, the customer experience across the purchase journey has become increasingly important for growth. Because of this, the role of brand in delivering results across media channels is key to a successful ecommerce strategy.
Ultimately, every outcome in every channel is related to brand, whether you're a 150-year-old luxury retailer or a 'Zebra' start-up with a new innovative product. Performance marketing has spent years circumnavigating brand to generate results, but privacy and the role of digital in consumer lives forces us all to look at our marketing from a customer-centric point of view.
On 29th September 2021, in a live panel discussion, we welcomed JaKenna Gilbert (Group Digital Director at L'Oréal Nordics), Steve Millard (Global Head of Ecommerce and Marketing at Tommee Tippee) and our very own Strategy & Planning Director, Ben Bisco, to the virtual stage to explore the role of 'brand' within the ecommerce space. 
Here we share some of the key takeaways that were too good to miss:
#1: leverage your brand to survive and thrive in the "messy middle"
There's no denying that the role of brands is extremely crucial in a highly competitive ecommerce landscape. From Google's recent "messy middle" report, we know that the consideration phase is getting more and more complex. During the session, L'Oréal's JaKenna Gilbert acknowledged "this growing complexity means that brand love, brand affinity, equity and trust really are the tipping point for consumers to make that purchase decision". 
Being able to build a sense of trust with your audience is of course essential for any brand, but when it comes to categories such as 'baby', it really is an absolute must. Tommee Tippee's Steve Millard explained that in this category, customers "really are going to trust brands […] that have a strong heritage, and that live and breathe the purpose and values that [they're] after". So how does this manifest in an ecommerce environment? Building your online ratings and reviews can be a great starting point, as well as developing a content strategy that seeks to engage and inform, building authority and instilling confidence and trust amongst your audience.
#2: take a pulse on what's happening across different markets
Entering and expanding your ecommerce business into new territories where your brand will inevitably be perceived differently is no easy feat. We asked our panellists how they planned and executed brand strategies across wildly different markets – and having an abundance of consumer and market insight was absolutely key. 
L'Oréal seeks to understand at a deep and granular level their customers and what their needs are to service them differently from both a brand and product point of view. JaKenna explained that even across the Nordics, there are key nuances between countries from a beauty perspective. For example, the Danish market has a much bigger focus on natural beauty. 
If you're not lucky enough to have a division dedicated to consumer research, there are still plenty of ways you can uncover a wealth of data and insight, such as social listening, Google Trends and Analytics. The exciting bit is, "the kind of agile methodologies that digital allows, does enable you to start thinking about your brand experience through a test and refine process, which allows you to listen to what your consumers say and adapt as you go", added 26's Strategy and Planning Director, Ben Bisco. 
For a brand like Tommee Tippee, the added challenge of laws and legislation across continents can prove tricky, particularly when it comes to advertising across Asia. Whilst there may be a number of universal challenges parents face from across the globe, how you work to solve their challenges, meet their needs and empower them, can be very different – so having "localised expertise and understanding to bring your plans to life, whether that's feet on the ground or through a partnership model, is absolutely critical for international expansion of westernised brands."
#3: build your tech stack based on your strategy and goals
We asked our panellists what the optimum marketing tech stack looks like for brand ecommerce, and who exactly owns it. As a starting point, Ben offered some brilliant advice: "Think about what you're trying to do and then build the tech around that. We see too often businesses taking on board big pieces of tech and then it fails because they don't know what to do with it." Following this he advises: "Keeping it as simple as possible and then build complexity, with capability. When it comes to 'capability' - the people, process and training are probably more important that the technology itself, as it's people that are going to be using it."
There's no denying that a lot of MarTech derives from a concentrated group of organisations, such as Google, Amazon and Facebook. On the one hand, L'Oréal are  able to create strong and meaningful collaborations and partnerships with these tech companies at a global level, but at a local level, JaKenna acknowledged that there's also value in diversifying the mix "so that we're not only dependent on certain tech to be able to communicate our brand, media and messaging – but [we can] also understand and learn the performance and connect our ROI in those channels."
#4: work to understand how and where your consumers are buying
When brands stop advertising sales fall on average 25% after two years (Ehrenberg-bass) which suggests ecommerce captures demand, rather than creating it. Despite this, many companies still expect ecommerce alone to drive significant growth. 
During the pandemic, many brands pulled the plug on the top-of-the-funnel activity, focusing on lower funnel, conversion. But Steve recognised this is a short-sighted approach and which many brands are suffering the consequences of this year. "It's a tight rope you walk – you have to do both. It has to be balanced and you can't turn it off. The expectation that online will just continue to grow is unrealistic to a degree because shoppers are omnichannel." 
For 26's Strategy & Planning Director, Ben, this is "all about understanding how and where your consumers are buying. Whilst the messy middle is an important part of this, so is mental and physical availability. You need know how people buy, so that you can influence their buying habits". 
We also know that consumers are more likely to choose the brands they recognise, hence why brand activity drives sales over time, so it's imperative you consider what marketing activity will reach people at different points of their buying journey and what purpose this activity serves. At 26, we have a framework for this, which we call "know, find, choose, love". Find out more here.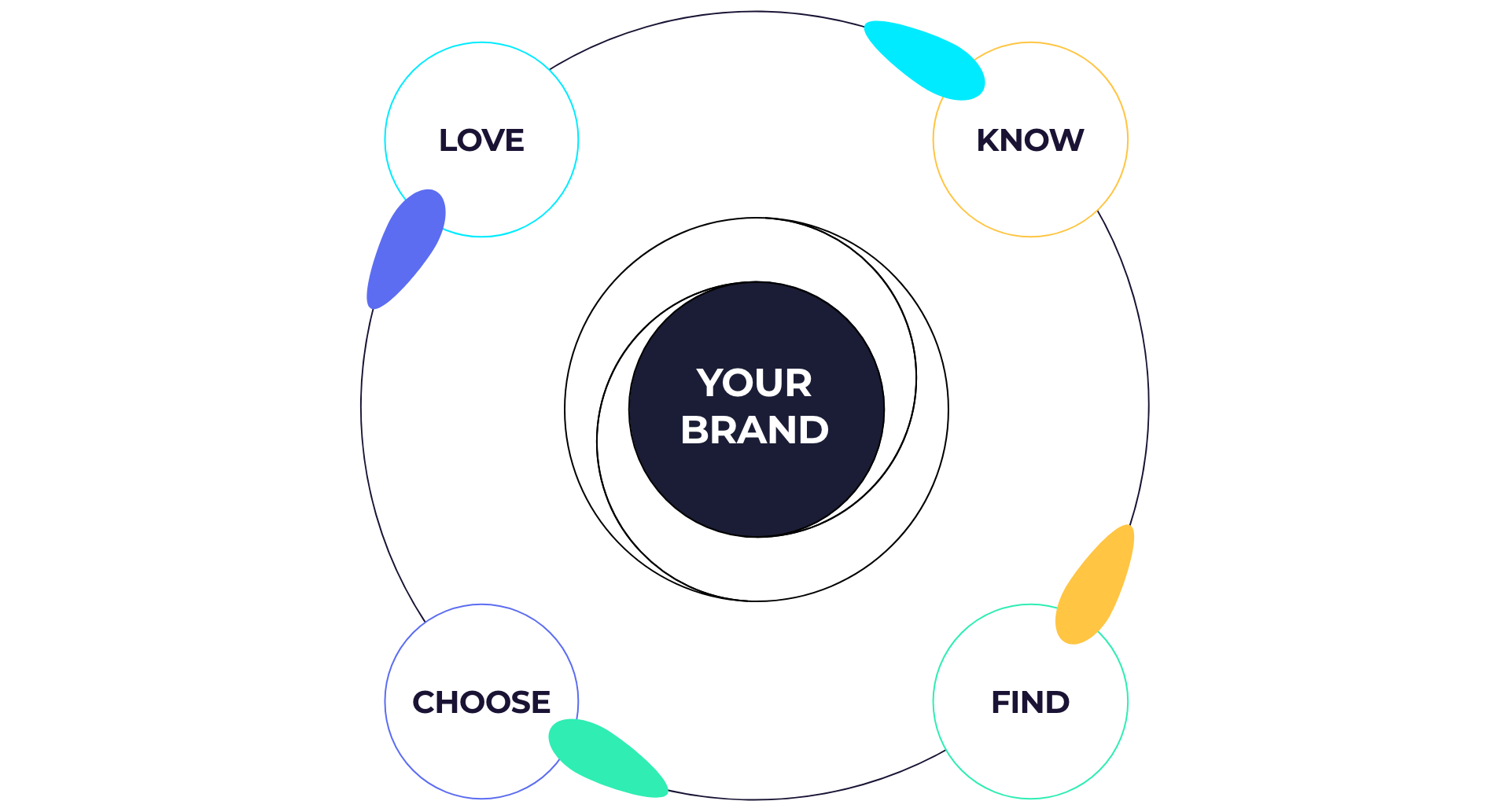 #5: Mission defines strategy and strategy defines structure' (peter drucker)
During the session, we discussed what we thought was the best organisational structure between sales and brand to accelerate growth, to support with both brand building and driving revenue. 
"This commercial and sales function, and this brand and marketing function, are two sides of the same coin. The yin and the yang – they can't operate independently or without each other. They need each other to survive", confirmed JaKenna. 
Ultimately, it's about understanding your end goal and setting your teams up in a way that will help you achieve that. Ben felt strongly that: "Goals define roles, because you've got to be crystal clear about what you're trying to do and then you aim to build a structure that allows that'. Building on this, Steve added: "What needs to be in place before the structure is the strategy – and more importantly, mindset and capability to execute that strategy." 
As L'Oréal doesn't have a D2C offering in the Nordics (its website is purely editorial) – its sales and commercial teams are set-up and built around building and maintaining those long-term client partnerships with e-retailers, pure-players and omnichannel players. Similarly, the brand's ability to accelerate in ecommerce wouldn't be possible without having their PIM DAM in place – and teams set-up to manage and ease the sharing of content with partners to "feed the digital beast". 
#6 Use agencies to get that "outside" perspective
Agencies are about extending a business's resources – perhaps that's because you don't have the resource internally, or to boost a particular area of specialism. But where brands find significant value is the out-of-sector experience an agency can bring.
On this topic, JaKenna shared: "One of the reasons why I love working with agencies is that it extends the competencies and skillsets and opens the brand out of our bubble and puts us into a wider context, so that our learnings and understanding of market shifts or verticals has context. When you're in a brand, you can be in your bubble. You're sharing best practices internally but you're not always exposed to the bigger picture – with digital, you've got to." 
Steve similarly echoed this point, adding: "Having access to agencies which are working with other big brands and learning and bringing that to the table, is mission critical. The worst thing you can do in [marketing] is to become inward facing, and having agencies that bring other skills, expertise and experience to help you develop is important."
If you're a marketer wanting to embrace a brand response approach to bridge the integration gap and/or looking for support with planning for 2022, get in touch. And don't forget, you can catch up on the full event here.
Our insights
Tap into our latest thinking to discover the newest trends, innovations, and opinions direct from our team.