Copy that: the copy concepts on our radar
Rob Dalton,
Here's a quick segment which rounds up and acknowledges some examples of great copy we've spotted in the wild, whether that's a recent campaign or something a bit different from deep in the archives. While we specialise in digital here at 26, that isn't to say we aren't keeping an eye on the other channels out there for our copy inspiration. If it's using words in wonderful ways, then we're watching.
So, here's just a few that have caught our eye recently that are worth a second look.
Spotify – Now it's time for a classic…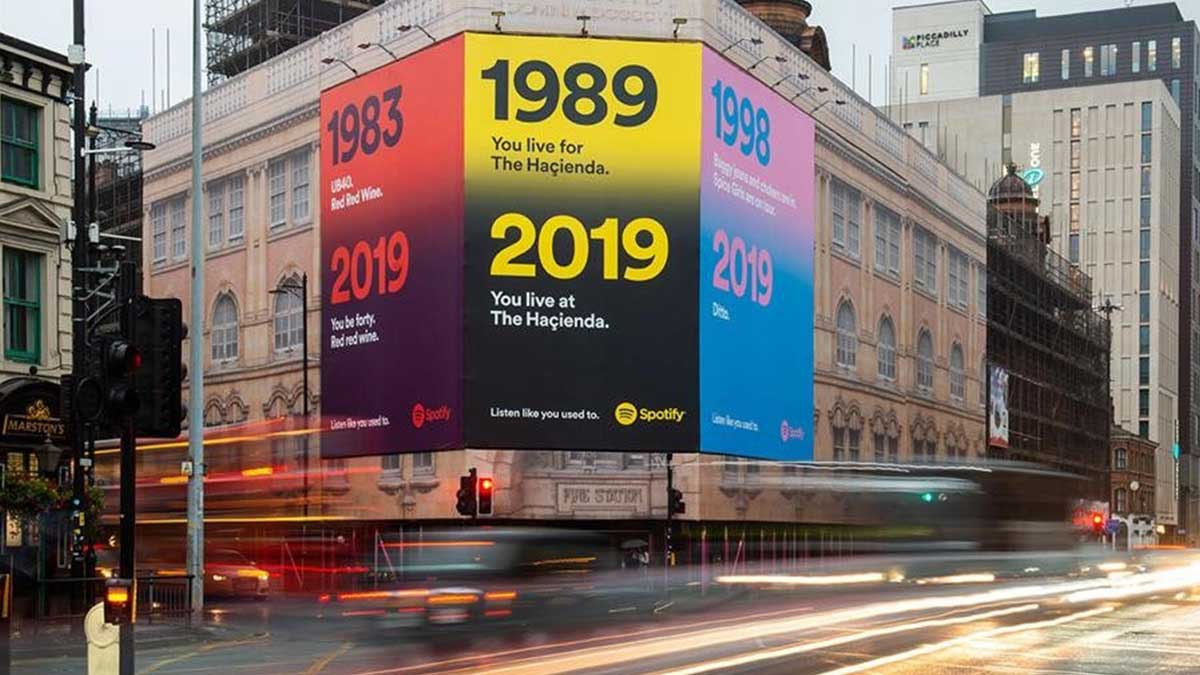 Back in September, Spotify ran a big billboard ad campaign across Manchester and London which aimed to get some older demographics on board with the music streaming bandwagon. Aptly named 'Listen Like You Used To', Spotify's campaign used a strong sense of nostalgia to hook people in, featuring some instantly recognisable golden oldies (London Calling, Smashing Pumpkins, UB40) alongside the year they were released.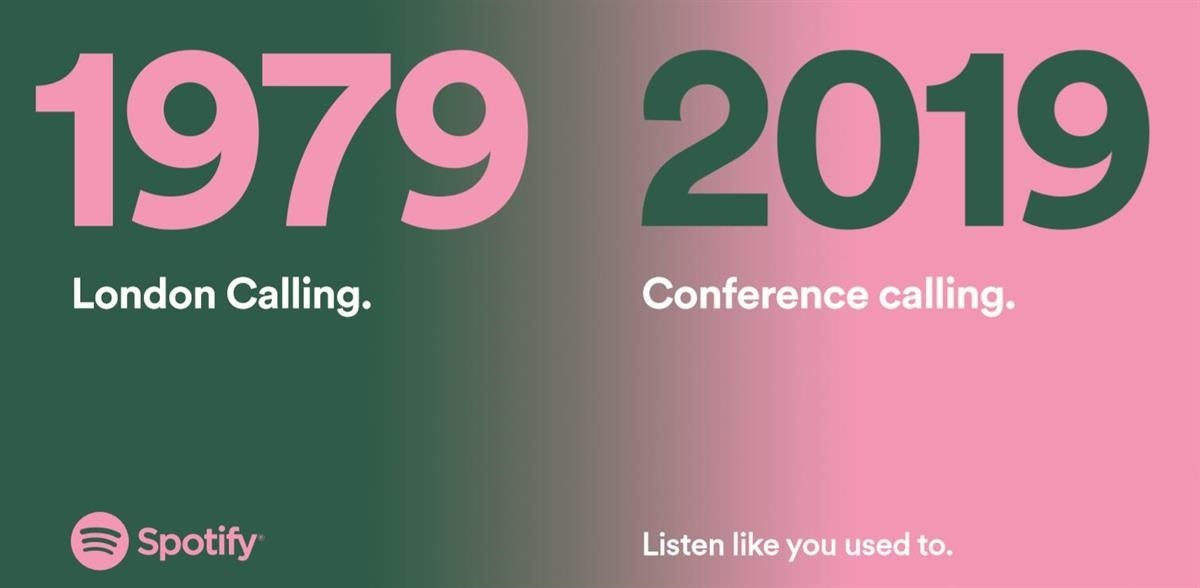 This contrasted with the other half of the ad which used some clever wordplay to mirror the musical references with relatively mundane, everyday tasks and middle aged life – UB40 becomes You be 40, from Smashing Pumpkins to smashing avocadoes, and so on. This one-two punch of nostalgia and humour pokes fun at how, for people of a certain age, the golden years are behind them. Work is work, life has moved on, and you're not as young as you once were. But you can recapture that magic through the power of music.
Spotify taps into this feeling effortlessly using minimal copy with maximum impact – the words speak for themselves, no additional context needed. By highlighting the back catalogue of music from the 90s and beyond, people who might have dismissed the streaming service as 'that thing the kids use' are likely to reconsider. By making the brand relevant to a particularly resistant demographic, Spotify could see a solid pay-off from this deceptively simple campaign.
MOCA – Life imitates art / Art imitates Life
Oscar Wilde once said that "life imitates art far more than art imitates life". Whilst this might usually be the case, the 'Seek Unsame' campaign supporting the relaunch of the Museum of Contemporary Art  in Toronto challenged this idea by using both digital and print ads across the city to provide artistic commentary for everyday occurrences with the aim of changing how people interact with the world around them.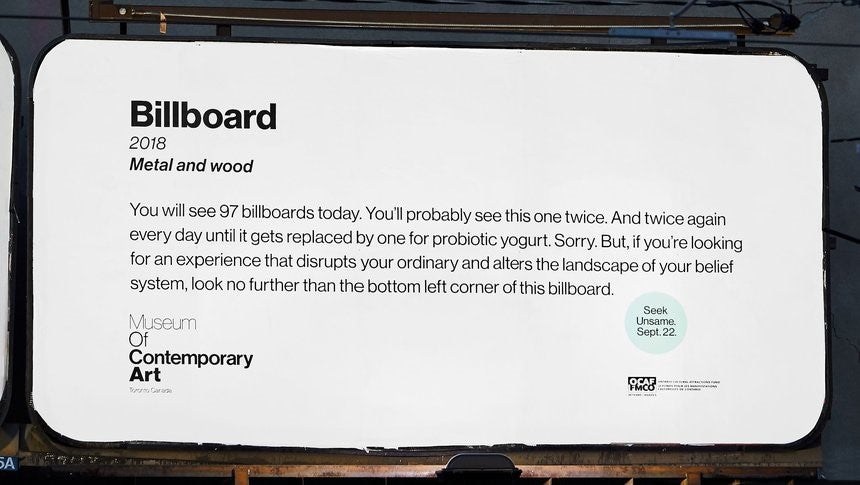 The campaign used location-based stories to craft narratives, akin to those you'd typically see in art galleries dissecting artistic works, which critiqued the everyday activities of Torontonians such as date nights at the cinema, bus rides, browsing news sites and checking out billboards. From pre-roll cinema ads to banner ads and billboards, MOCA used carefully crafted copy to comment on how we live our lives and how a trip to MOCA can offer a new perspective on the world.

Tone of voice was the key to this whole campaign, establishing an open, conversational style from the get-go as well as some tongue-in-cheek elements to entice the audience and prompt a response, either through engaging with the ad on social media or attending the reopening of MOCA Toronto to disrupt the everyday and discover something new.
In the end, the campaign drove strong results both online and offline, with a 700% increase in site visits and over 11,000 visitors attending MOCA Toronto's reopening weekend.
Marmite – Marmite, Mentalism & You!
This is one of those campaigns where the brand goes all in on a bizarre idea which works seamlessly with the brand identity and throws it at all the different channels to make it stick. In this case, the idea is that Marmite can now hypnotise you into loving the weird, yeasty spread. The TV ad plays the central role in all this, with some fantastic moments within the script (notably, the older gentleman who realises he's wasted his life hating Marmite) that really sell the idea in that Marmite has gone all Derren Brown to transform the Marmite haters into lovers.
Switching gears over to social, Marmite also summoned up a viral video which allows you to experience the hypnotic power of Marmite for yourself, complete with monotone voiceover that uses all the typical 'you-are-getting-very-sleepy' tropes. Even the Marmite pack itself gets in on the action. If you take a peak at the packing, you'll notice the green band which you'd typically overlook…now contains a cheeky subliminal message of 'You don't hate it, you love it', a self-referential parody of their 'Love it or Hate it' campaign strapline.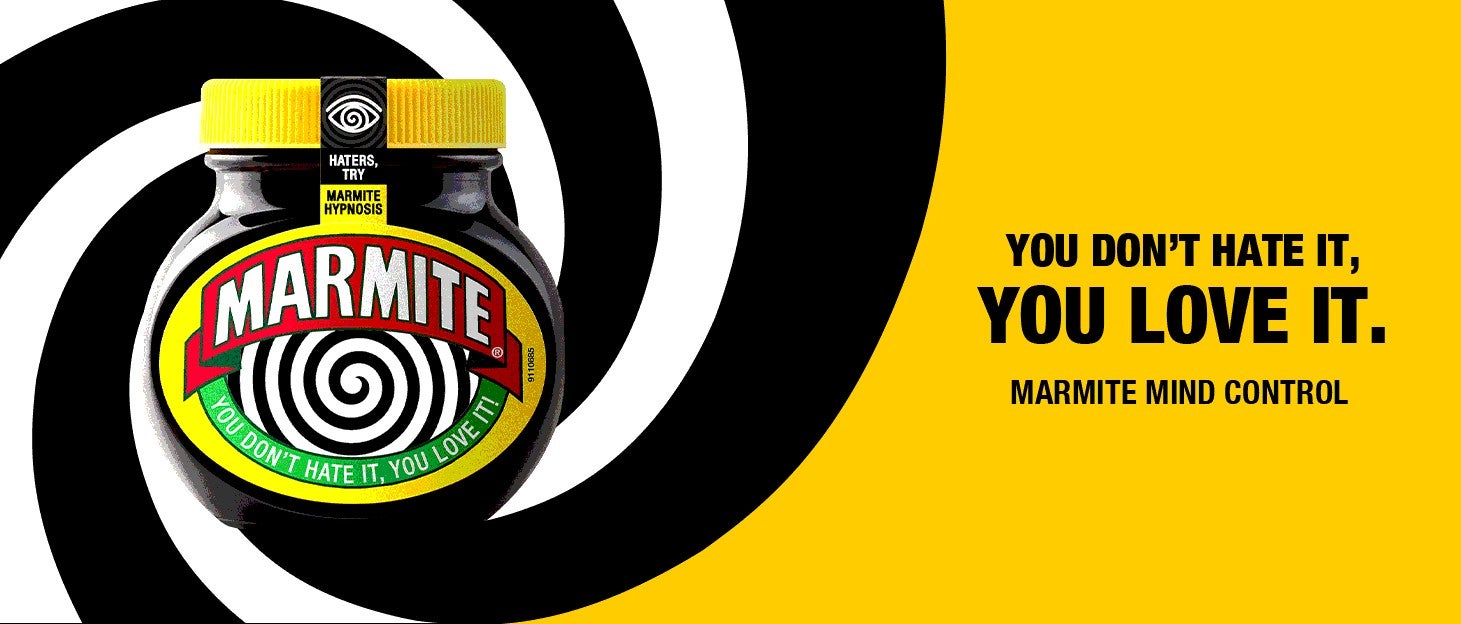 By taking a crazy idea, executing it across a few channels and using copy to bring it all together into a cohesive, eye-catching campaign, Marmite has pulled off this slightly off-the-wall concept which could have crashed and burned. Suddenly, I've got a craving for Marmite on toast…
Struggling to find the right words for your business? Get in touch and our content team can help you to figure out the messaging that's perfectly suited to your brand for future comms and campaigns.
Our insights
Tap into our latest thinking to discover the newest trends, innovations, and opinions direct from our team.