Why the demise of the 3rd party cookie creates an opportunity to embrace programmatic advertising
Alex Blaikley - Media Director,
At the time of writing, there is no guarantee that the Unified ID 2.0 initiative will be endorsed by Google. However, it is worth planning on the basis that it will not be adopted by Google and that the opportunity cost argument will become clearer for advertisers.
Advertisers who rely on Chrome and other Google properties for advertising, should be prepared to adopt 4 short-to-medium term workstreams that will limit disruption and / or create value.
Embrace the Google ecosystem
Google will argue that changes will result in a better user experience across their platforms and that advertising will not be better or worse, but simply reflect user consent.
We expect there will be a steady stream of advertising features which will make it easier to target, build creative messaging and measure. Machine learning will ensure that there is less requirement for manual optimisation and as a result, ads will more likely be delivered to the right user at the right time and in the right place (if that place is a Google platform) – the programmatic dream.
Google search remains a key channel to reach and convert new customers – for all advertisers. By encouraging advertisers to use more of their platforms in the right way, brands will 'de facto' be running programmatic campaigns – how they decide to define and delegate this activity will for some, be harder work than running the campaigns. The migration from Universal analytics to GA4 will provide a more useful view of consumers behaviour and greater transparency.
Whilst these changes do level the playing field in many ways, there are still opportunities for digitally mature advertisers to create a competitive advantage at an enterprise level - as part of a 1st party data (1PD) strategy.
Define a 1st Party data strategy
Building a 1PD Strategy will benefit media planning and buying across all platforms and can provide value across the organisation. In the context of programmatic, having access to 1PD will create competitive advantage in 5 ways:
1PD can be actively used in Google customer match and Facebook custom audiences to target your customers on these platforms.
To create custom / lookalike audiences across platforms and partnerships.
Inform creative and messaging both for dynamic and static usage.
Support a CRO testing programme using Google Optimize.
Help identify the most appropriate publisher partnerships.
Build direct publisher partnerships
The first iteration of display advertising was based exclusively on direct publisher deals and the assumption that context is an important factor in campaign effectiveness.  
Whether buying publisher inventory in real time via a DSP, through private marketplaces or a bespoke partnership, the opportunity to advertise alongside trusted quality content to 'known' audiences will allow brands to reach new customers, increasing campaign effectiveness. '95% of publishing decision-makers report having started building their first-party data monetization strategies' (Forrester, March 2021). For many established publishers, their audience data is accurate, accessible, and scalable.
Audience segmentation using 1st party data insight will help highlight the most appropriate publisher partnerships and, along with a strong planning process, will help mitigate a common digital marketer's fear; that budgets need to constantly be shifting between publishers and platforms to increase effectiveness. Machine learning will do a better job of optimisation once the right partnerships are in place.
'80% of brand leaders report having direct relationships with at least one publisher today while 48% have developed five or more such direct relationships already' (Forrester).
Define a measurement framework
The demise of 3rd party cookies will not prevent an advertiser from being able to measure ad effectiveness or incrementality. Programmatic using 3rd party cookies promised the ability to measure the effectiveness of each campaign across platforms and publishers. In truth, this was only ever a reality for a short period of time and became progressively harder due to the rise of 'walled gardens', long before privacy was a consideration.
Defining a measurement framework is a considered and collaborative process, which needs to be grounded in the reality of current capabilities and linked to marketing objectives. Not simply objectives defined by the platforms.
There are 4 key projects or areas for consideration when defining a measurement framework to support programmatic advertising:
Adopt server-side tracking to futureproof.
Marketing Tech stack(s) & data integration options – existing or planning.
Dynamic creative & digital asset management to ensure creative effectiveness is an enabler - rather than a limitation.
Democratisation of reporting using dashboards – all stakeholders should have access to performance and customer insight.
Programmatic Media at 26
At 26, our approach to Programmatic keeps performance at the heart of our strategy and is underpinned by the following principles:
Audience data: Using first, second- or third-party data to plan and deliver highly targeted campaigns.
Creative relevancy: Run the most audience and platform relevant creative with a strong call to action message. We have an in-house team of experts who can ideate, create and set-up campaigns to deliver video or standard display formats to specific audiences.
The right technology partner: DV360 has access to the most comprehensive source of trusted publishers and provides the ability to deliver cross-device, brand-safe campaigns in real-time, at key points in the customer journey.
The below outlines our rigorous approach to working with our clients to get the best outcomes from a performance and customer engagement perspective: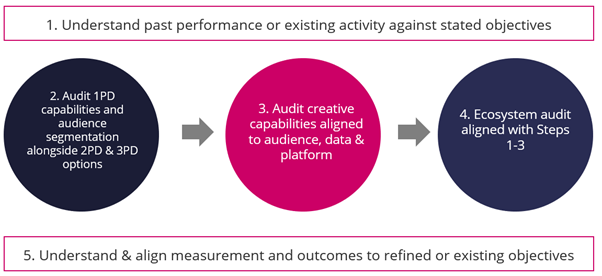 If you're Interested in a attending a programmatic workshop, please get in touch.
Our insights
Tap into our latest thinking to discover the newest trends, innovations, and opinions direct from our team.