Google Analytics 4: What does this mean for you?
Emily Pick,
So, what is it?
Google have recently announced the rebranding of Web + App into Google Analytics 4 (GA4).
This platform is designed for the most part to enable businesses to view analytics data from different platforms (i.e. an App and a Website) in one place. There are a lot of other benefits that come with the update that will be useful for all sectors to take advantage of.
How does it differ from what I have now?
First of all, it is also worth noting that you do not need to log in from a new system to access GA4. Reports are accessed through your existing Google Analytics account and usual logins.
New GA4 reports are very different to what you will be used to, but this also comes with some more flexibility and improvements. For many users of Google Analytics, this will be a big adjustment. Report structures are different, the old event structure has been replaced and some configuration settings that we're used to will require a different approach.
One other big change is that GA4 is now event-based, rather than session based. This means that there will be differences in metrics and dimensions when comparing data from GA4 to your existing data. This event-based system has come with several benefits, which includes enabling websites with app-like experiences, such as those built as single-page applications to track page views in a much easier way. 
This may seem daunting, but there are some real benefits to this!
There are new metrics and dimensions such as 'engagement rate', 'engagement time', 'engaged sessions', 'user stickiness' and 'total buyers'. These are just some of the new things you'll see in the interface.
As mentioned above, GA4 has moved to an event-based method of tracking. This has led to the removal of the rigid event structure and the introduction of event parameters. With each event you are now able to track up to 25 values (parameters) against it.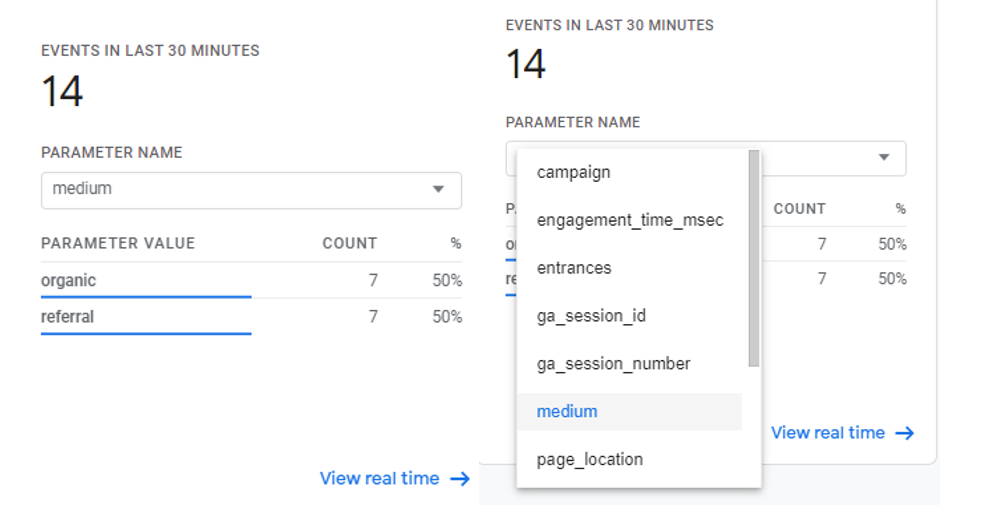 Figure 1 Screenshot of list of parameters against a page_view event

The new Analysis hub means even more flexibility and detail when looking at path and funnel analysis.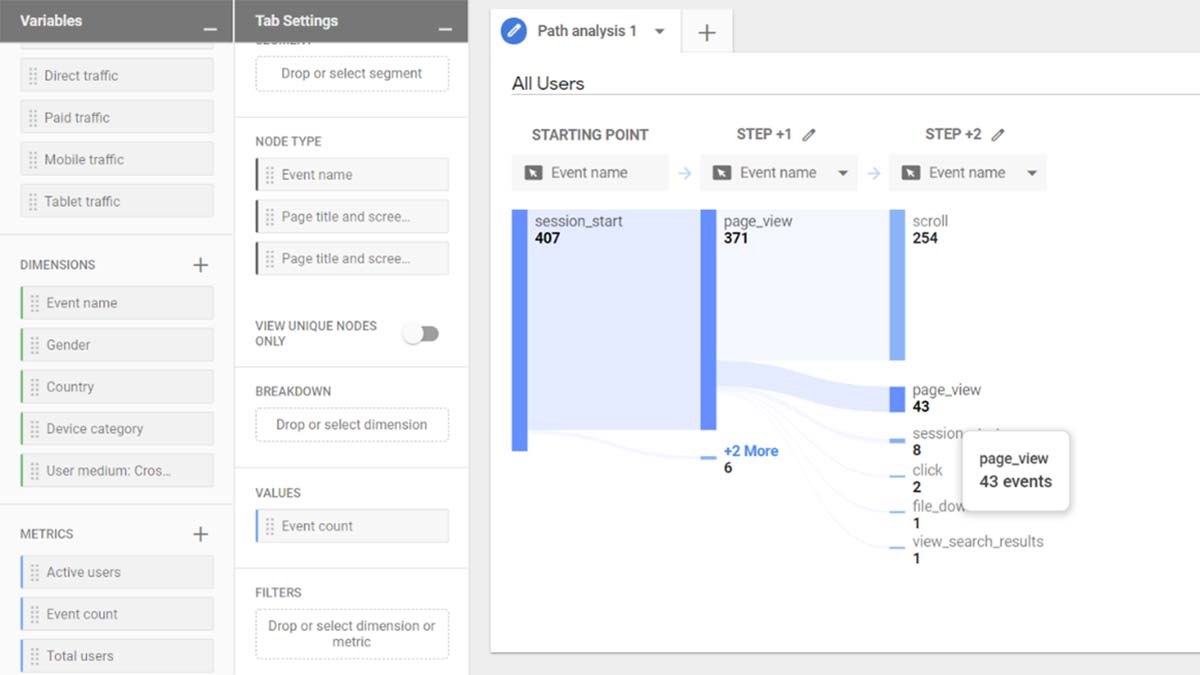 Figure 2 Screenshot of the new path analysis feature

There is a renewed focus on the user and audience definition.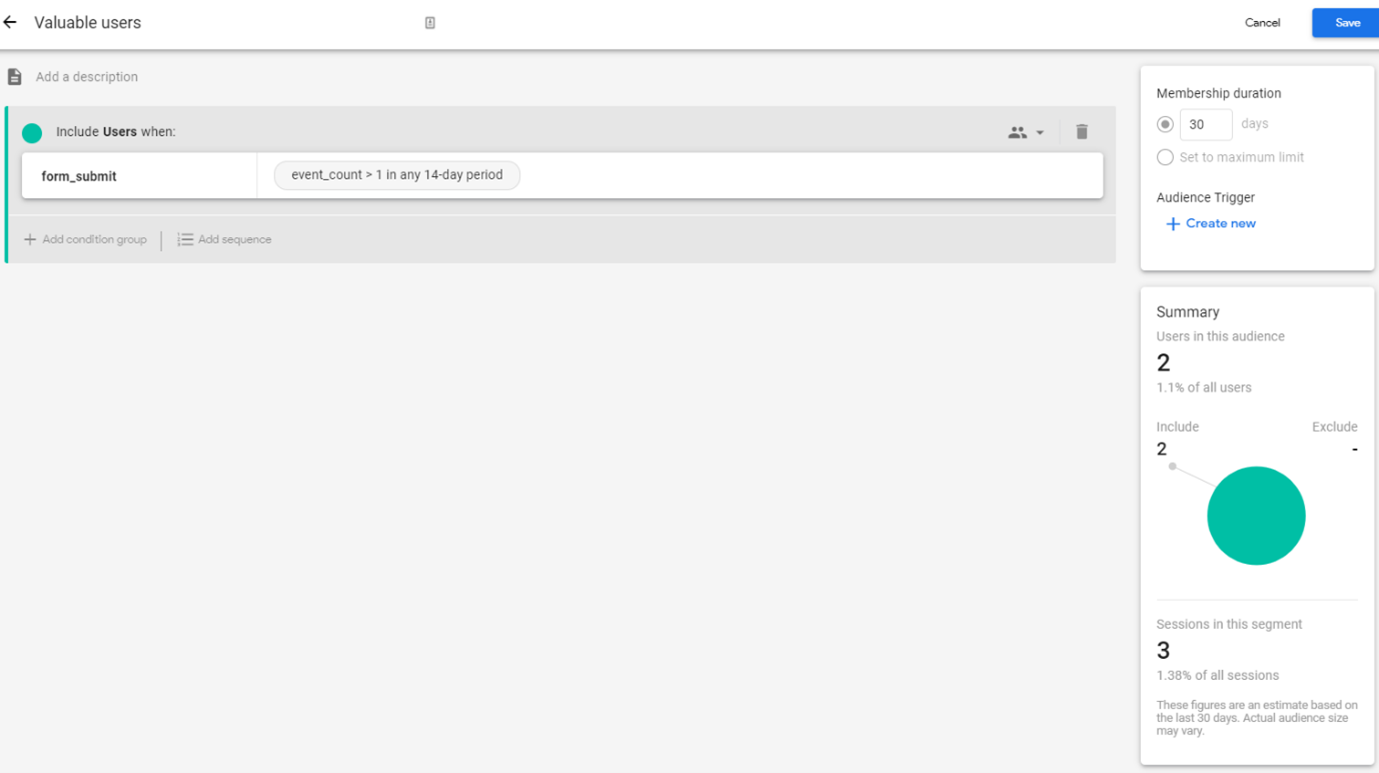 Figure 3 Screenshot of audience builder

What should we be doing?
We recommend that Universal Analytics (UA) is run as a 'dual-setup' – running UA and GA4 side by side.
Google have stated that GA4 won't be fully ready for web users until next year (2021). Google are currently continuously updating the GA4 platform, with new features being worked on. Any features currently not available are likely to be added over the next 12 months. But in advance of that point, beginning to collect historical data is advised, this is in preparation for the point at which migration will be necessary.
A note on technical implementation
Fundamental updates to Google Tag Manager (GTM) are required to support GA4 as the tag system has completed changed, especially for ecommerce websites. Pageviews and events are now all moving to an event-led approach.
Any other third-party tags within GTM won't be affected, so your marketing tags won't necessarily need to change. Any external platform that relies on Google Analytics goals will likely need reviewing and migrating.
Summary
This new way of reporting may take some time to get used to. However, we strongly believe this new version of Google Analytics has the opportunity to give even greater insight than before.
Whilst Google has stated the platform isn't quite ready for website reporting as of yet, we do need to begin forward thinking and start to implement the changes sooner rather than later. When the platform is finalised we believe that UA will become redundant, with the new platform superseding it in all aspects.
If you have any questions regarding Google Analytics 4, our team of data specialists are on hand to help. Feel free to get in touch
Our insights
Tap into our latest thinking to discover the newest trends, innovations, and opinions direct from our team.