Stick or twist? 4 takeaways from our web replatforming roundtable
Dani Goodwin - Head of Marketing,
A new website is an exciting opportunity to enhance your digital presence and online customer experience while upgrading your website's capabilities at the same time - but we know it can be an increasingly complex undertaking. 
For many organisations, the first decision is whether to stick with your current website and improve what you already have - or switch things up by replatforming. So how do you know which is the right choice for you, and how can you create a business case to help you achieve your goals?
Earlier this month we ran our intimate roundtable with a selection of senior marketers from 10 different organisations who were faced with these exact challenges. Opening up about recent experiences, like-minded peers shared their thoughts and ideas around some of their biggest replatforming considerations and approaches, in a bid to support and inspire those going through the process.
In this blog, we share four important takeaways that were too valuable to miss:
1. Get stakeholder buy-in from the get-go
When undertaking significant investment in your website, getting buy-in from the right stakeholders, at the right time is crucial - but it's easier said than done, right? 
In the session, we heard from digital marketers who have struggled to win the support (and budget) from key decision makers when it comes to investing in a new website or making significant enhancements to their current one - and this is a scenario we hear all too often. This is especially challenging where there is a lack of digital understanding or maturity at a senior level, outside of the marketing team. 
To get buy-in from those outside of your marketing team, we recommend focusing on how the project will help overcome business challenges, goals and objectives, rather than getting stakeholders bogged down in the technology (whilst the technology is important to you, it can be overwhelming for those who are not familiar with it or prompt stakeholders to focus on end solutions rather than remain open minded about the various ways and means that their goals can be met). 
In some instances, a programme of small wins could be the best way to achieve increasing buy-in. A test and learn approach can demonstrate incremental success and drive increasing interest and investment from across your stakeholder teams.
Ultimately, your stakeholders will want to know that investing in a new website (or upgrade) will pay off, so being able to demonstrate ROI by showcasing that the project will help the business to achieve its overall vision and goals is vital. 
2. Some discovery is ALWAYS better than no discovery
The discovery (or research) phase of a website project is essential - remove it at your peril! Unfortunately this part of the process is often overlooked and undervalued. During the roundtable, we heard anecdotes from those who had invested time and money into understanding their business requirements, user needs and their market/competition - and those who didn't and wished they had!

A 'discovery' phase can come in all shapes and sizes - spanning anything from a few weeks to a couple of months. The breadth and depth of your discovery will largely depend on your project timescales, budget and how much data, insight and research your business already has to hand. But whatever situation you find yourself in, undergoing some form of discovery is always better than no discovery. Having valuable evidence to back-up your decisions will certainly help you de-risk your project and get that all important stakeholder buy-in. 
The key to a successful discovery is to evaluate both your business and user needs and balance these requirements. Some organisations will focus too heavily on trying to meet the demands of their customers, that they forget about their business goals. Others will focus too heavily on what the business wants from the site, that great user experience gets overlooked.
A great way to get buy-in from decision makers who might see this as unnecessary and a potentially open-ended use of budget (apart from just explaining it's common sense!) is to set a fixed discovery budget. We recommend at least 10-15% of your total budget outline. That way you have clear cost control going in and a ballpark for agreeing the depth of deliverables coming out. Remember, discovery can be just as much about validating what you think you already know, as it is about generating new insight. If you don't have the evidence, don't fall into the trap of "thinking" you know. Make sure you do know, before committing any more of your budget to a project that could easily get away from you. 
By doing this research, you can identify that 'sweet spot' to help focus your energy and in which you'll find the biggest value: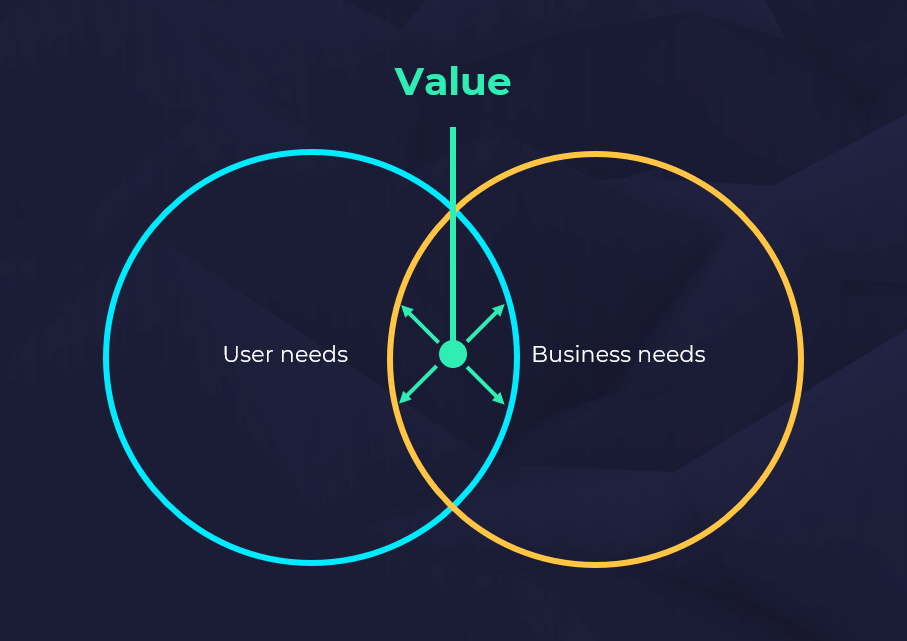 3. Understand what you want to improve, before deciding if to replatform (or not)
Once you get to grips with both your business and user requirements, you can then start to evaluate where your current website is performing and where there is room for improvement. For example, it might be imperative that your marketing team has the ability to publish new pages of content on your site, quickly and easily, with no developer support - but your current platform or the way it's set up might not allow you to do this. 
From here, you can begin to review (with the help of your agency partner) whether your requirements could be met by building new functionalities within your existing platform, integrating new technologies with your current set-up or whether, in reality, a replatform is your best option to achieve your goals and digital vision. 
In the session, we heard from a number of marketers who were frustrated by their current platforms, despite the platforms being some of the best on the market. In many instances, it is poor implementation of the platform that's the issue, and not necessarily the technology itself. In this scenario, it's important to find an agency partner with the technical know-how and experience to help you make the most out of and future-proof your platform. 
4. Give your agency a fighting chance
During the roundtable, brand-side marketers posed the question 'What do agencies need from us in the initial stages, so we can get the very best from them?'. It's a great question and here's what we had to say:
Know your budget - Before engaging with an agency, it's important to know broadly what budget you are working to and be open to sharing this. Whilst budgets may be flexible or can change, sharing a ballpark figure is an important step in making sure you're having conversations with the right agencies for the job. If you're not open to sharing your budget in the early stages, you run the risk of wasting both your time and the agency's.  
Have some understanding of your outcomes/requirements - Whilst your agency will undertake a discovery to validate these requirements, having an initial idea of what your needs are is extremely helpful in the early stages. This means we're able to share initial thoughts on potential platforms or enhancement strategies. But it's equally as important not to come into the process closed-minded. A good agency will use their experience to challenge and validate your requirements, whilst also helping to identify others which you may not have addressed. 
Embrace active engagement - It may be tempting to fire out an RFI to a huge number of agencies via a uniform framework designed to return responses that are very easy to compare and assess, but that often fails to let agencies really demonstrate their points of difference. We often find that the best pitches and strongest brand-agency relationships are formed when you're open to what we call 'active engagement'. Being open to answer questions from agencies in the early stages enables the agency to get a clearer understanding of your challenges and vision, allowing them to deliver a more tailored and quality response. Win win! It's also a great way to get a taste of what it's like to work with the agency and their people, to see if you are a good fit. 
If you're looking for support with navigating a complex website project, please get in touch. 
Our insights
Tap into our latest thinking to discover the newest trends, innovations, and opinions direct from our team.