Use technology to create killer content
Guy Sharman - Creative Director,
Content is an area where the medium can really make a difference to the comprehension of your message. Get the media right and you can increase conversion, get it wrong and lose people at that moment, potentially forever. Introduce a new type of innovative media and you could potentially become a market leader.
To be  clear, we aren't advocating using various innovative media methods for the sake of it, don't add video, podcasts, Augmented Reality and more because we think it may make a difference. Do it because you know it will make a difference.
This isn't "just do it" advice it's "just do it when right".
Importantly when you are making content make it go further, break some rules and make it memorable.
Plan for everything
When creating video content, plan for all channels. We know there is a messy middle full of options and personalised routes so let's repeat edit, not creation. When you think you are pushing your consumers technology abilities, test it. The cost of testing in digital makes it low risk and if the research is right, no risk.  At 26, we believe in listening carefully, forming a strategy and creating quickly.
Augmented is the new real
One medium of content that has really made a difference in the past year is AR. The rapid development and penetration of AR solutions has made it a necessity for some companies. When you can't see your new fridge in store, having the ability to see it augmented into your kitchen may just break that final barrier to purchase and put minds at rest. AR is a practical solution and at the minute it is still novel enough to be entertaining to those that engage. AR solutions are primarily split into 2 areas that occasionally blur, service and entertainment. In these areas, AR is great for visualising assets, storytelling and offering a further layer of helpful information. All of which can increase likely hood of engagement and purchase.
Below are some examples of both service and entertainment that show possibilities and how channels are really embracing the technology and getting ready to meet future demand.
AR in social
There are some great applications maturing like Facebooks & Instagram's Spark AR, which evolves rapidly and needs updating every time you open it. From its simple beginning, creating camera effects filters, it now has a lot of programming scope. Whilst Spark has in the past been used for products suited for face augmentation, Ray-Bans and Nars lip sticks, I don't think anyone has tested it's fuller capabilities yet. One of the latest filters development I've noticed can be seen here. A more complex puzzle solving game has been developed that uses more of Sparks programming capabilities.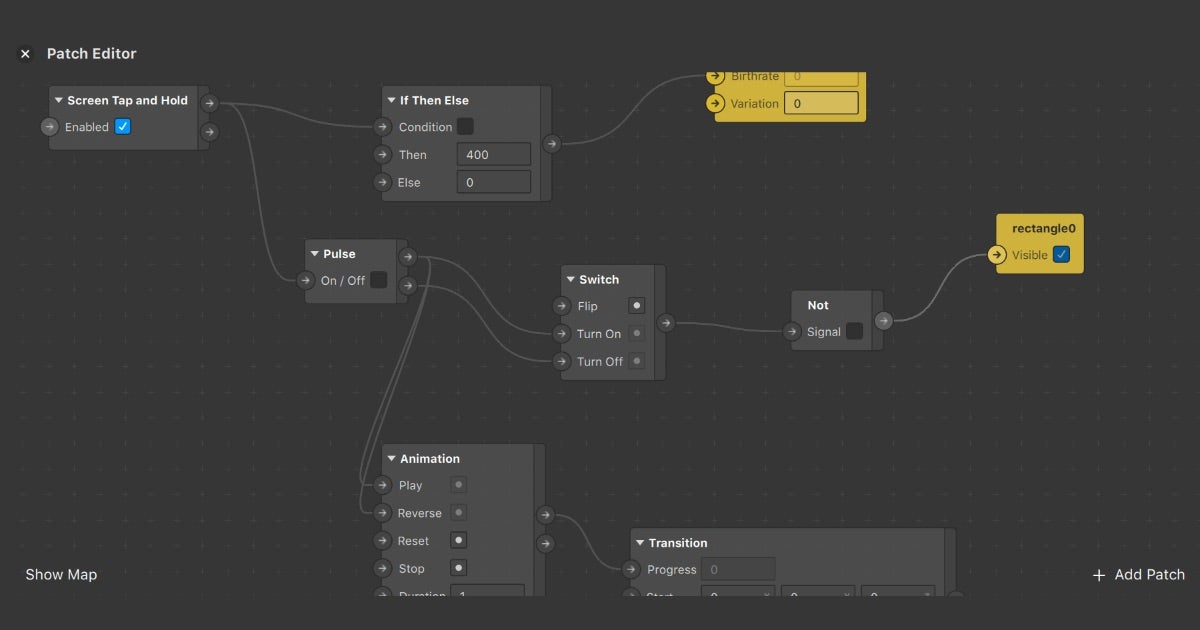 Adobe aero is another product that is embryonic but starting to integrate with full adobe suite and will surely go further to develop new media solutions available on line. At the minute it can be great for making virtual exhibitions or presentations, artists are also experimenting turning their photoshop files in to art with real depth.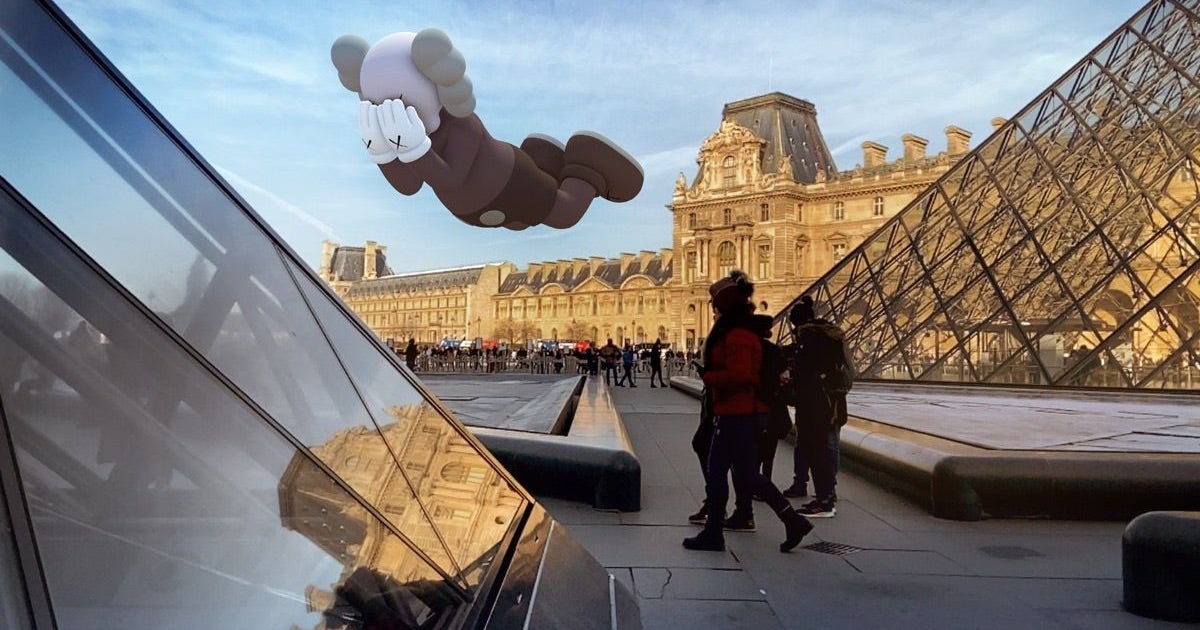 Pinterest - Pinterest over the past year have developed an AR makeup filter that works across 5 brands to provide thousands of combinations and thousands of user generated posts. It's a clever use of technology, on the right platform, that has led to these results "Since augmented reality technology launched in the U.S. in January, Pinners try on an average of six lipstick shades and are 5x more likely to show purchase intent on Try on-enabled Pins than standard Pins." Read more on their site here.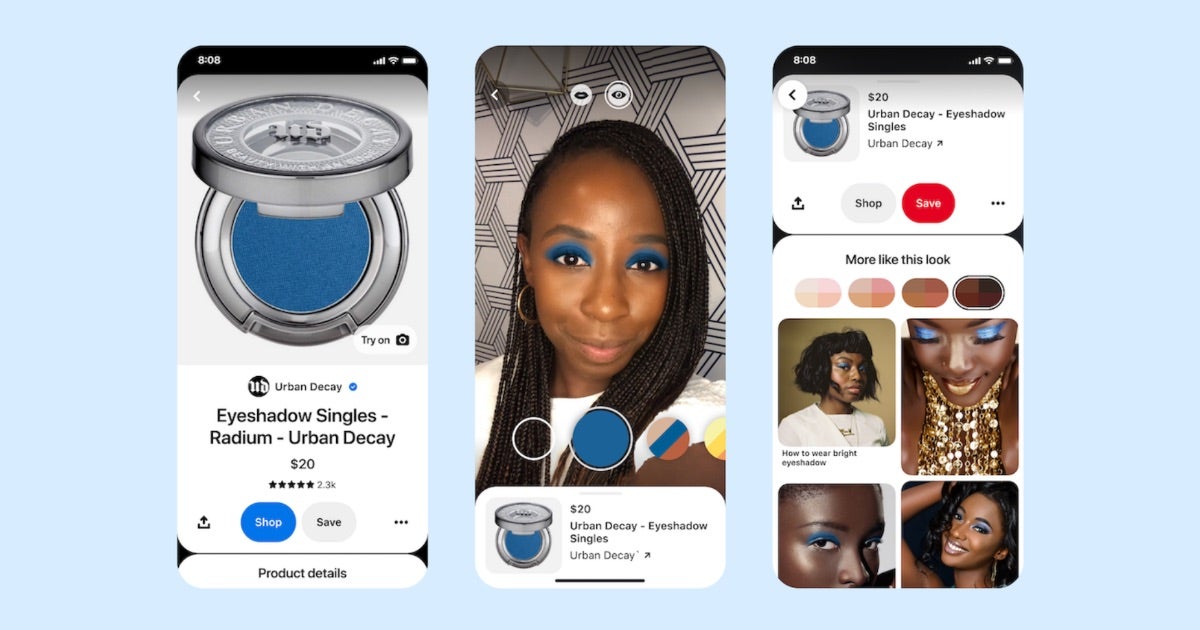 Snapchat- Snapchat filters allow ecommerce connection and lots of opportunity to share your virtual look. Snapchat was one of the first social channels to embrace filters and embrace AR. Take a look at a virtual AR department store in action here. Getting potential customers to curate and try before buy on their social platform with many share options.
AR on site
This is a tricky area as AR doesn't work on all browsers, or on all devices, so you need to look at your user stats and work out if it works for you. This is of course changing all the time, as more phones feature capabilities and browsers update. Practical sale inducing ideas like this that feature on the Amazon app using Apple's ARkit, is available in some browsers. As you can imagine amazon have thousands if not millions of products that could be added to an AR service and increase sales numbers.
When it all comes together
When you stitch all these medias together on page it can look something like this.
This page takes you on a journey through levels of detail getting less emotional and more detailed the further you go. It features TV advert style video, audio from the engineers, facts and figures on the product, 3D spins of the product as well as an AR point where you can walk round in sit in the product full size. And throughout calls to action.
It's ultimately an absorbing set of curated medias that educates and entertains in a way that lets you decide which media is right for you. Giving the brand more chances of connecting.
Get free money
Being early to media platforms and media innovations can lead to changes in brand perception and importantly, free publicity. Being an early innovator can mean picking up awards, getting into sector press, reaching new sector magazines and a being broadcast by a million micro bloggers. Giving access to new areas of conversion and new reach. This is obviously the cherry on the top of reasoning, if it happens.
Summary
There is an audience out there that is comfortable using AR to try before buying and it's getting bigger. AR will increase conversion, increase engagement on social platforms and reduce barriers in service and purchase with the right audiences.
So if you have a product or want to create some attention, AR is definitely worth investigating in.
We are constantly looking at these new technologies that enable us to reach further and increase conversion. If you'd like to speak further give us a call.
Our insights
Tap into our latest thinking to discover the newest trends, innovations, and opinions direct from our team.