Why social-first content is key to social success
Phoebe Dixon, Social Media Account Director,
As brands work to keep on top of the continued influx of social media platforms, it's all too easy to fall into the copy & paste approach of social content. While that same social post could work for each LinkedIn, Instagram, X and Facebook, are you communicating directly to each audience by doing this?
Your audiences undoubtedly use each platform slightly different. While repurposing content across platforms can have great success, the direct copy & paste approach leaves a ton of missed opportunity to directly communicate and engage your different audiences.
Think about your own habits. Why do you check Instagram? What do you actively engage with on Facebook? How do you use X (if you've stuck around!)? When and how users interact with each platform differs, so should the content they're seeing. Not only does this provide a better experience for your audience, but it allows you to differentiate messaging and tap into the most relevant info for each of your audiences. You probably have some of the same people following you across multiple platforms. Differentiating your content will help capture them wherever they're browsing, providing another opportunity for a post like, comment or share.
Understanding your audience on each social platform is the key to this approach. Learning from platform insights to understand when your audience are online and engaging, what that engagement looks like and what content it is that typically gets them interacting will help inform your future content.
Working hand in hand with this is ensuring that your content is platform-first. Does every post need to be on every platform? Or are some things suited purely for Instagram Stories and nothing else? Quality over quantity is an adage that never dies. Instead of aiming for a strict posting schedule, instead think about the purpose and intent behind each post, and ensure the post is there to do something of value for your audience; whether providing information, making them laugh, making them share… tap into that value-led experience.
Monzo are a great example of this approach, often sharing the same or very similar content platform to platform, but understanding what each platform's audience is there for. On Instagram, their content is visually-led, sharing the tweet format image. On LinkedIn however, text performs just as well alone – and for Monzo it's a consistent approach of snappy, shortform copy that drives engagement for them.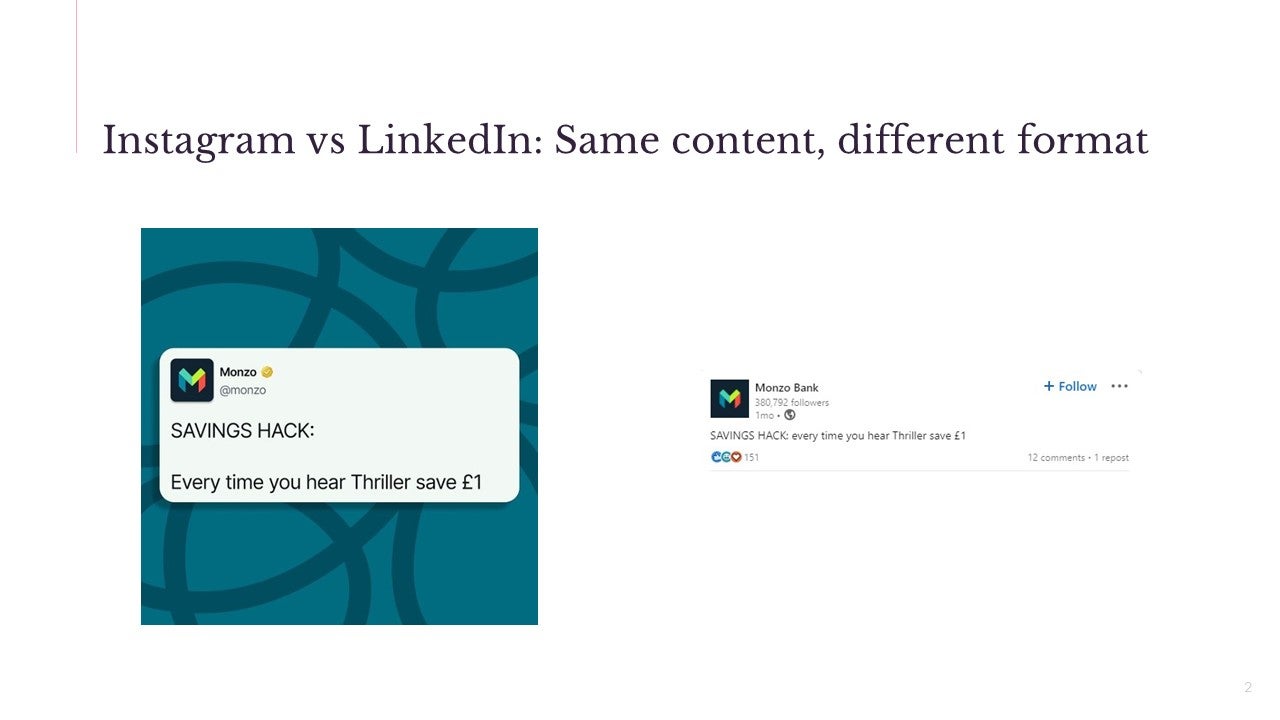 This is where differentiating one piece of content to better fit each individual platform can provide great long term value. While a base tone of voice will likely always be very similar across platforms, there is opportunity to adapt your standard tone of voice to better suit different platform nuances. Take X or Threads for example, both of these platforms really benefit from much more conversational copy styles. Compare this to LinkedIn or even Facebook for some brands, where the general tone of voice may not be as soft but, depending on your brand, you can still tap into that conversational approach.
The value in sharing content specifically designed for social media, and even better, specifically tailored to platforms, is that it allows you to build different communities across your online presence. Whether you're engaging users across your website, online ads, email marketing or social media, each should have a slightly different approach to speak directly to the people you're targeting. Social-first content is content that is formatted specifically for the platforms, not a copy and paste direct from a website or an offer for email posted straight out onto social.
Platforms reward best practice. They reward users that interact with their features regularly and in a quality way. Good quality, relevant content drives engagement, which should encourage platforms to push your content further the next time you post. That pixelated landscape video shared to Instagram Reels just to get a post out may do you more harm in the long run, instead of curating a feed of content relevant to each platform.
We know that creating completely unique posts for each platform is a luxury. While this is the dream scenario, repurposing a base piece of content is probably more realistic. Start with the key message you want to get out across your marketing channels, then fine tune it to each channel and each profile. Learn from what's come before, what is it that makes your audience take action? Use different copy iterations to test for success and weave in different call to actions or points to engage with and see what works.
Repurposed content doesn't always need to be starkly different, but learning from what performs will help guide you into subtle reworks that could provide much more value across your online presence.
The social team here always have their thumbs scrolling to learn from different brands and how they speak to their audiences, as well as testing different approaches on our own roster of clients. If you need a hand with a more bespoke approach to your social media presence across different platforms, get in touch.   
Our insights
Tap into our latest thinking to discover the newest trends, innovations, and opinions direct from our team.