How to adapt your paid search strategy to today's consumers' needs
Andrew Mirzai,
It's been well publicised that advertisers have been reducing budgets to rein in marketing spend during the Coronavirus pandemic – and we've seen this take place across Paid Search. Whilst these are challenging times, this does present some opportunities for those who are willing to be brave and challenge this trend.
A simple case of 'supply and demand'
Internet service providers are reporting huge surges in internet use, which comes as no surprise since more people are working from home, whilst advertisers are slashing their media spends. As a result, we are getting more eyeballs on screens and less competitors - more demand and less supply equals a cheaper market. This presents a unique opportunity for advertisers who want to gain a fast market share.
It is necessary to acknowledge that consumer buying confidence is low in some markets, and it is understandable that budgets in those areas are being reduced. However, in this instance, the smart play is to ensure you retain this audience either through a change in messaging or switching to a brand building approach. 
Be known and be present. Consumers are still in the market, even if they aren't ready to purchase straight away. It's worth remembering that Paid Search is a pull channel – it guides the existing demand rather than creating it.
The impact of pausing Paid Search accounts
The flipside of this for those considering pausing Paid Search accounts is that stopping activity can have more drastic, long-term implications on your performance when accounts get reactivated. 
Advertisers will likely see a drop in Quality Score, typically due to the historical data no longer being available, and they could miss out on newly released Google features which your competitors will already be capitalising on. 
The automation used in advertising will also need to go back into learning mode. This means when advertisers come back online, CPCs will need to be increased in order to compensate for a reduction in quality score and lack of account learnings. So, if you do have to cut costs through marketing, ensure you are reducing your bids rather than turning off your account in order to protect your quality score and keep your on-going account learning intact.
Advertisers who've attempted to recoup advertising spend through paused/reduced channels in the short term will likely be using their savings (and probably a bit more) to get back to where they once were when the market returns. Whereas those that were brave and continued paid search activity will likely recoup their investment once the market returns and be ahead of the pack for future market surges.
How to improve consumer confidence
Whilst consumers may not be in buying mode at the moment, they are certainly in browsing mode. So how do advertisers give consumers confidence to purchase non-essential items and how do we keep up with an ever-changing market? 
In this climate, consumers are looking for three core signals from advertisers – trust, honesty and convenience. 
1. Trust - Advertisers need to show they are looking to help their audience through this difficult period. For example, 'Book with confidence' is a new call to action consumers want to see, as shown by a sharp uptick on Google trends: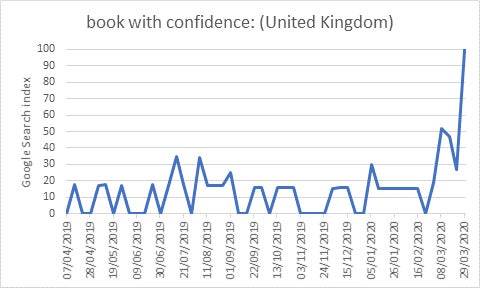 2. Honesty - Will there be difficulties and challenges within your business? It is better to tell the clients about this first before they waste their time (and your money) finding this out for themselves. Something as simple as letting consumers know about longer estimated delivery times or being open about your call centre issues can help. We have already seen a huge uplift from consumers interested in changes to call centre times: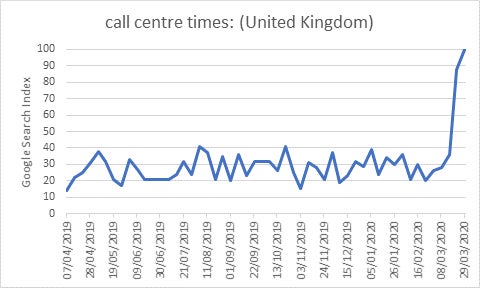 3. Convenience – Think about a consumer's current needs and whether your business is matching them. Are you able to offer finance deals or 'buy now, pay later' schemes to help generate orders? Are you able to safely deliver to a customer's home? A Google trends report highlights the growth in search volume for 'home delivery' in the last two weeks: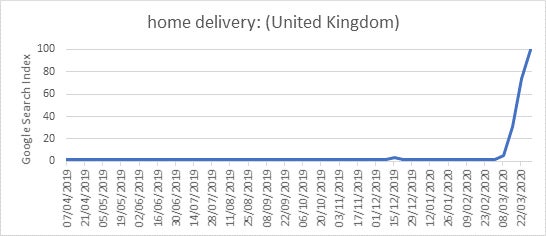 Reviewing and amending your ad copy can be a good starting point in ensuring these three key needs are met by simply being upfront about the situation and what you are doing to help, ensuring customer journeys are as frictionless as possible. 
If you are unsure about the type of messaging that will work best in this unique situation, Google's Responsive Search Ads is a great place to start. Responsive Search Ads feature lets you create a dynamic ad that adapts to show the most relevant messages to your customers. It allows you to enter up to 15 headlines and 4 description lines which can then be used by complex algorithms to determine the ideal messaging most likely to return results in your desired conversion points.
Dynamic Search Ads can also be especially valuable to stay on top of how consumers are searching every day. Dynamic Search Ads are the easiest way to grow your keyword list, ensuring you're not missing out on a huge amount of traffic just because you weren't aware of how a consumer's vocabulary had changed from moment to moment.
By following these basic principles, you'll be able to put your consumers first and have the tools set up to adapt and conquer emerging trends and changes within the search landscape.
The Author
Andrew Mirzai, PPC Manager
Andrew is a PPC Manager within the Paid Media team at 26. He has a strong track record in delivering high-performing campaigns in the lead gen and ecommerce spaces.
Our insights
Tap into our latest thinking to discover the newest trends, innovations, and opinions direct from our team.