Three ways Love Island owned digital marketing this summer
Naming 2018 as a 'record-breaking year of love', whether you're a fan or not, Love Island has taken the marketing world by storm in a relatively short time. On air for eight weeks of the year, popularity of the show has only grown annually, catapulting it into global interest.
According to GlobalWebIndex, we're spending an average of 20 minutes more a day on social media than watching TV and for Generation Z that increases to 1.5 hours more. So if traditional media is no longer receiving the widest reach, how has the ITV TV series become such a hit?
Social media
Continuing the conversation from TV to social media is vital in gaining the attention of Love Island's audience of 18-34-year-olds who are spending less time watching live TV than generations before. Peaking at 3.7 million views, Campaign revealed that Love Island is the most watched show of the year for 16-24-year-olds with 59% share of views. The producers bridge the gap so seamlessly between TV and social platforms, that they won a Drum Content Award for the 2017 series.  
Since 2018, Love Island producers left Snapchat to focus on Instagram. The official Instagram account has over 3.1 million followers and 2,261 posts. Engagement on every post is seriously high with many receiving 300,000 likes and thousands of comments. Some of the videos have had over 1 million views. An average of 89 Love Island tags on Instagram are posted per hour with the most popular being #loveisland, #loveislandmemes and #itv.
Entertainment and time-filling content is the most important aspect of social media for users. Previously using these platforms to share opinions and life updates, we've moved from sharing content to consuming content. A case in point, the series tweets cliff hangers and teasers creating an immersive experience for viewers who are rarely only looking at one screen. Executing a multi-channel content strategy that posts teaser videos every day, behind the scenes content and plot twist suggestions, the programme creates an addictive nature where viewers don't want to miss a show in fear of feeling left out.
Brands
Generating over £77million in ad revenue, Love Island presents a smorgasbord of opportunities for brand collaborations and sponsorships. Clamping down on authenticity and natural content, the number of sponsors went down this year from 10 to eight, including Vo5, I Saw It First, Lucozade Zero, Superdrug, Uber Eats, Samsung, Ministry of Sound and Jet2holidays.
This year's fashion sponsor of the show I Saw It First, reported a 67% increase in sales each month during the series, as well as a 245% increase in Instagram followers and a 61% increase in Twitter followers since it launched. The brand styled all the date outfits for the islanders and sponsored the style section on the voting app.
Last year's fashion sponsors Missguided provided the outfits for the female islanders for the entire series and saw a 97% increase in online visits. Using pixel implementation, they were able to quickly link exact product matches on their social feeds so that viewers could instantly shop their wardrobe during and after each episode.
Using a strategy of planned and reactive content, Boohoo dominated the Love Island mentions on Twitter, posting GIFs memes and polls about the show. From start to finish of the 2019 series, the brand posted close to 12,500 Love Island mentions.
Amongst the fight to sign up the islanders for brand partnerships and clothing deals, Boohoo, ASOS and Missguided created a thread of memes to compete against one another in securing the nation's favourite islander, Ovie.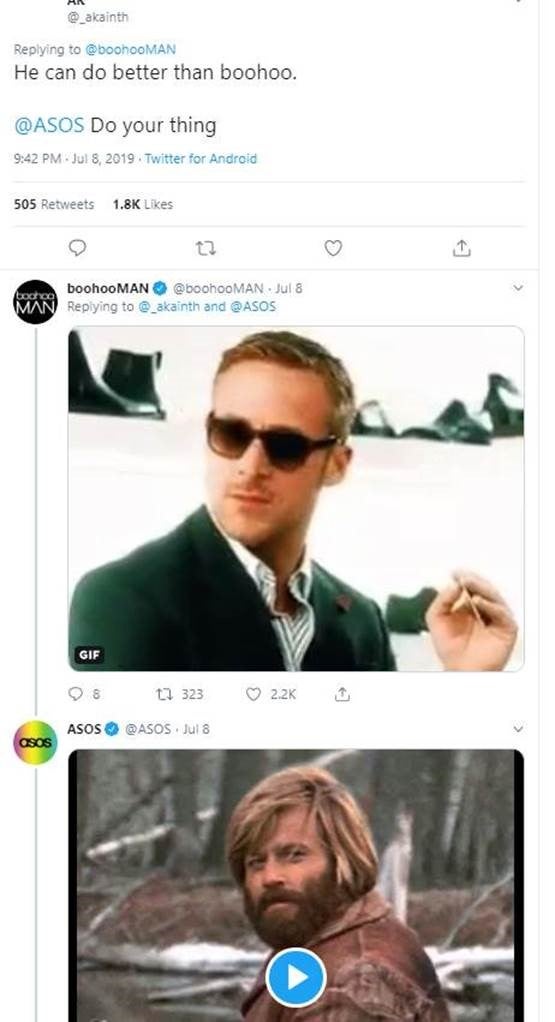 Capitalising on a narrow window of opportunity, reactive content was key for brand's social strategy during the show, providing discount codes, commentary and products with relevance to the plot.
As well as being the title and podcast sponsor, Uber Eats, that reportedly signed a £5 million deal with the show, emailed customers with a Love Island theme discount code 'IMLOYAL' – a phrase coined in last year's series.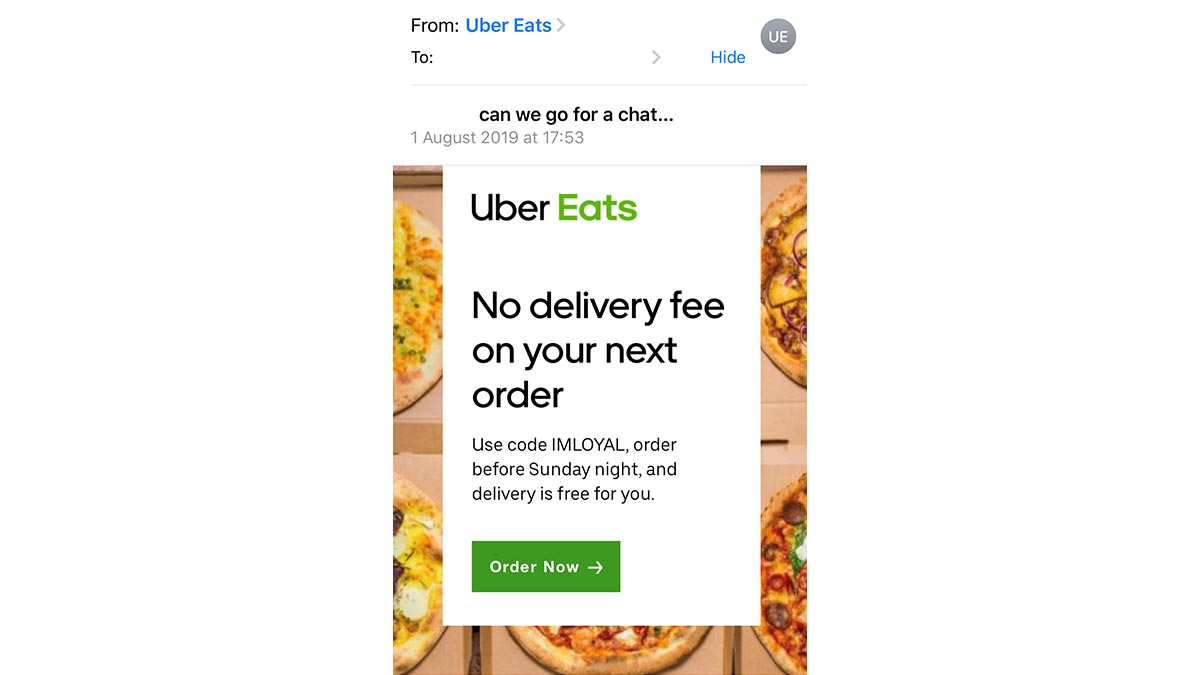 Since this season aired it's been reported that the contestants can be making up to £7,000 per post, with Molly-Mae the highest earning at £7,211.73 per post.
Reality TV has created a new type of celebrity endorsement, latching on to perceived authenticity. It has only been two weeks since the show finished, and at least three islanders have already signed up to top brand deals. Winner Amber Gill has landed a prime-lunch-time spot on the Loose Women panel, Lucie Donlan has secured a £200,000 deal to be the face of Peng Hair and Maura Higgins has been named as a new guest presenter on ITV's This Morning. 
Campaigns and stories
Cashing in on Love Island's popularity, brands and publications have been using the show for links, coverage and views. A simple search reveals the sheer number of Love Island related search terms and frequently asked questions. If you're looking to target 18-34-year-olds, then using this research can help provide a wealth of SEO-led content ideas for your site.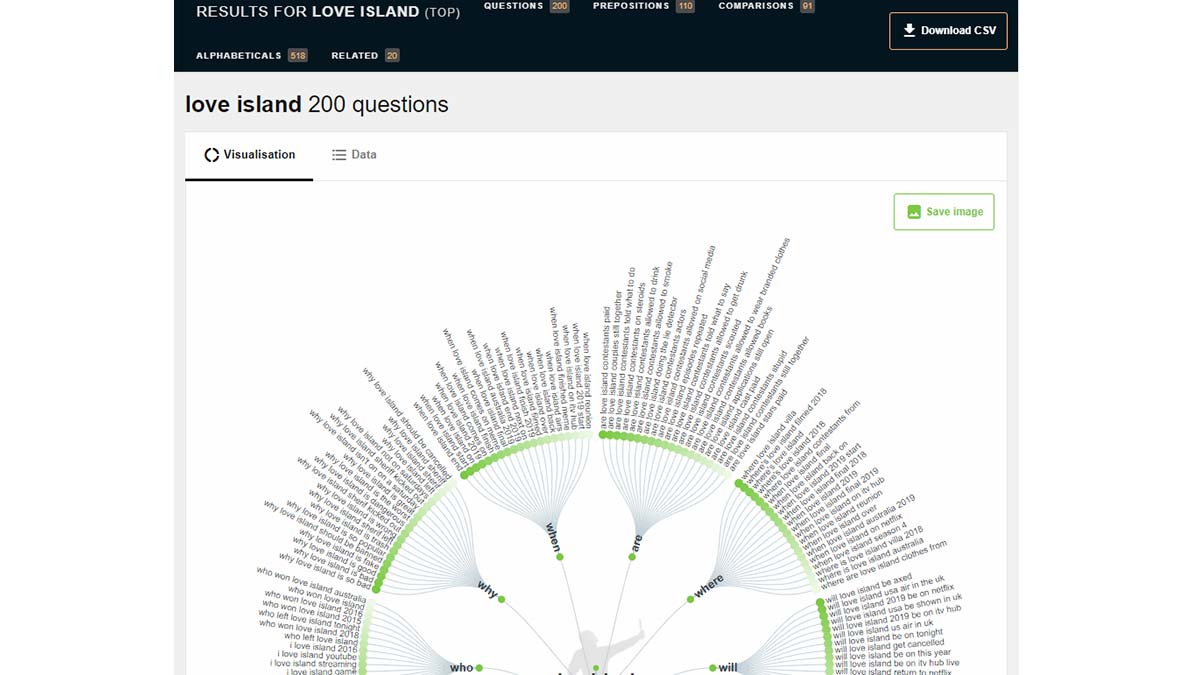 One of the most common ways the show has been used for stories is personality quizzes to reveal which Love Island contestant you're similar to or would be most suited to for a date. A number of predicter campaigns have been launched as well, using photos, followers, tweets, polls and even dogs to work out who might win the series.
Claiming to cover every inch of the story, The Sun's unofficial Love Island coverage saw online traffic reaching an average of 11% increase during the ad breaks of the show. Creating content that customers engage with directly has provided The Sun with data (your favourite islander, who you'd vote for, how much you pay attention to the series, what days/time you're accessing Love Island content) on their readers that allow them to improve targeting and content strategies.
Next on the rosy horizon for Love Island is a winter series complete with snakes, crocodiles and spiders. Set in South Africa, filming will begin early next year. No sponsors have been announced yet but we're sure that strategies, content, stunts and brand deals are being planned as we speak.
Our insights
Tap into our latest thinking to discover the newest trends, innovations, and opinions direct from our team.